Zoho Projects Implementation: A 4-Step Guide to Success (2023)
How to Deal with the Obstacles You Could Face When implementing Zoho Projects?
Zoho Projects implementation stands out as the most captivating among all the apps we implement. Its success relies heavily on the project management skills and IT knowledge of the company looking to implement project management software. A deficit in either area can impede the success of Zoho Projects implementation and hinder user buy-in.
When customers approach us for assistance with Zoho Projects implementation, it typically signifies various needs and challenges they face, such as:
Transitioning from mere project reporting to active project management.
Upgrading project management practices to a more robust and efficient system.
Addressing specific issues in project management
Overcoming deficits in project management capabilities
Streamlining cash flow management within projects
Improving the utilisation of existing project management software.
As a top-tier Zoho Projects Consultant, over the past seven years, we have diligently collected data to gain deeper insights into the underlying issues and categories related to the implementation of project management.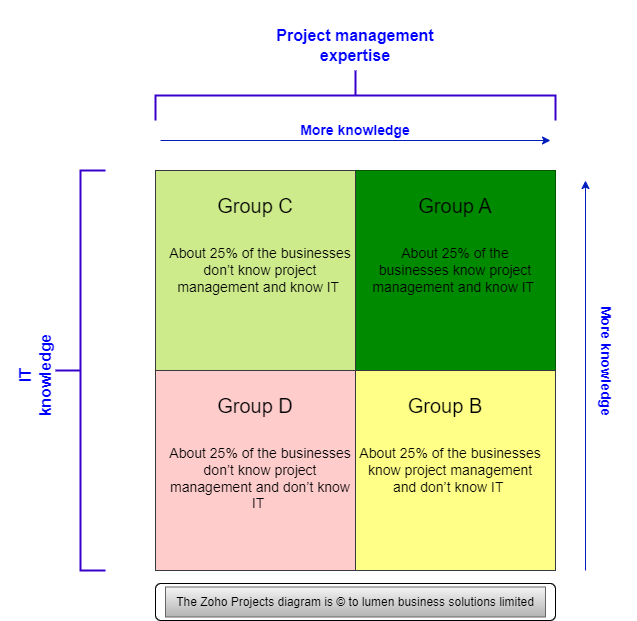 How to Maximizing the Benefits of Lumen's Zoho Projects Implementation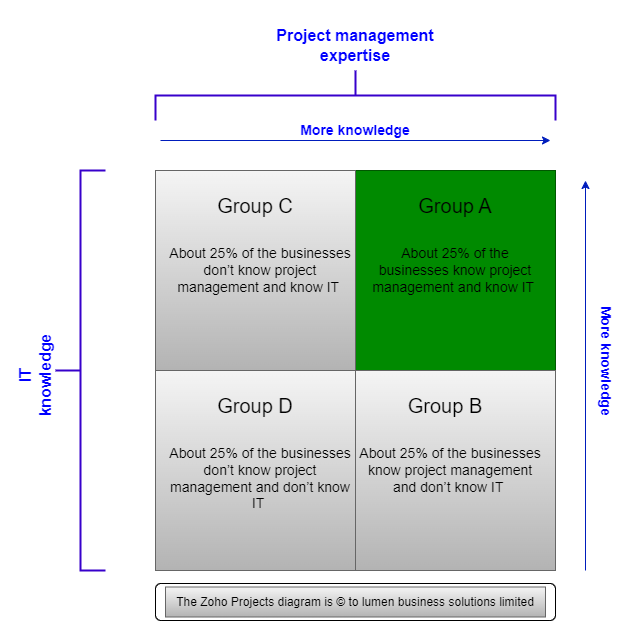 For Group A (approximately 25% of businesses with project management and IT knowledge):
Utilize Zoho Projects tips and tricks to maximize efficiency and productivity.
For Group B (approximately 25% of businesses with project management knowledge but lacking IT expertise):
Implement change management practices to facilitate a seamless transition to Zoho Projects.
Offer Zoho Projects training along with helpful tips and tricks to enhance the implementation journey.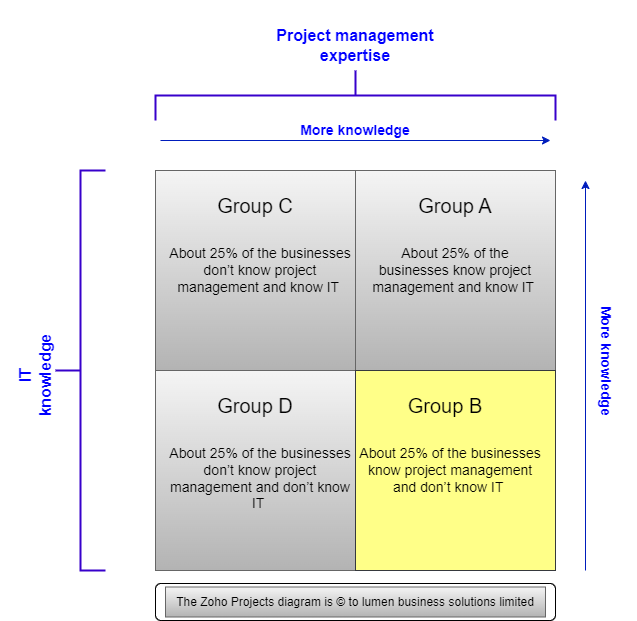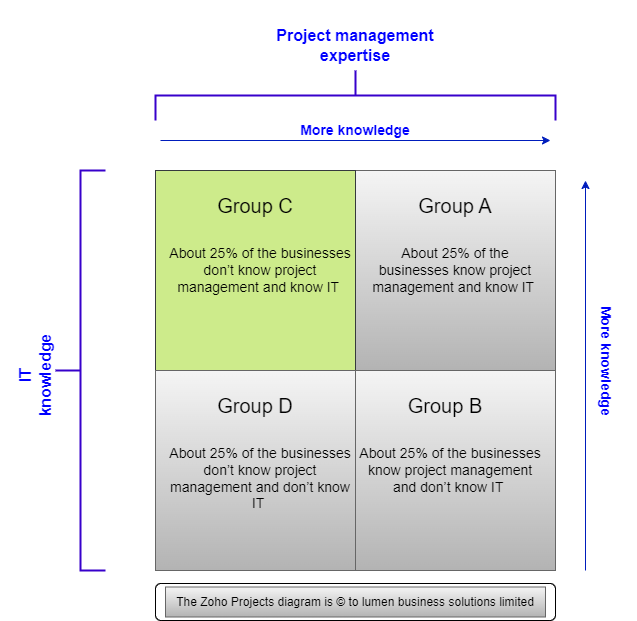 For Group C (approximately 25% of businesses with IT knowledge but lacking project management skills):
Provide in-depth project management training to develop core competencies.
Offer Zoho Projects tips and tricks to support their utilization.
Make Zoho Projects training available as an optional resource.
For Group D (approximately 25% of businesses lacking project management and IT knowledge):
Implement comprehensive deep project management training to build a strong foundation.
Ensure effective change management practices to facilitate a smooth adoption of Zoho Projects.
Provide Zoho Projects training along with valuable tips and tricks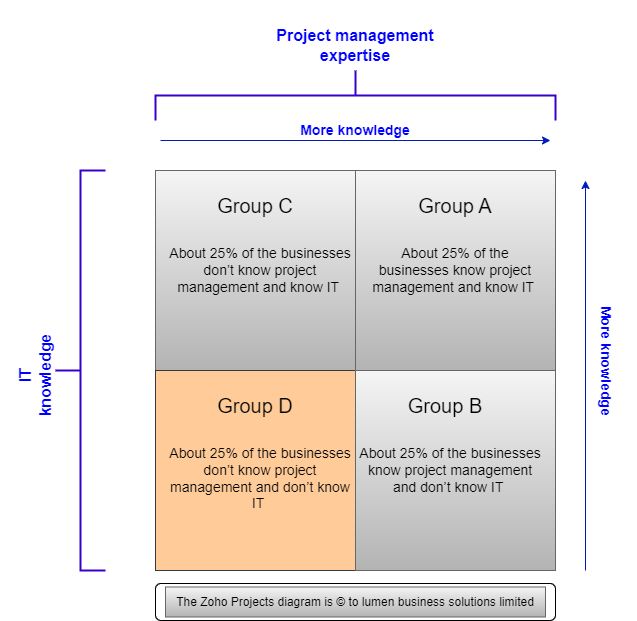 Project Cash Flow Management
1: Project Cash Flow Management: Ensuring Financial Stability and Regulatory Compliance
Project cash flow management is a critical aspect of financial operations that revolves around the procurement of goods and invoicing within projects. This process entails the coordination and collaboration of multiple departments, aiming to optimize cash flow and maintain financial stability. Particularly in capital-intensive projects, effective cash flow management is paramount for vendors and organizations alike. By implementing robust cash flow management practices, businesses can mitigate financial risks, streamline contract management, and ensure regulatory compliance
3: Customization to Fit Your Financial Needs
Flexibility is crucial when it comes to project cash flow management. Different projects may have unique financial requirements and complexities that demand tailored solutions. With Zoho Projects, you gain the advantage of customization capabilities, allowing you to adapt the system to align with your specific financial needs. From defining project budgets and cost categories to setting up custom invoicing templates, Zoho Projects empowers you to tailor the platform to match your organization's financial workflows.
2: Streamlining Business Processes for Efficient Cash Flow Management
Efficient cash flow management necessitates the streamlining of various business processes and cross-departmental interactions. As a finance manager or CFO, it is essential to establish seamless workflows that enable accurate recording and tracking of project-related expenses, invoices, and payments. By implementing integrated systems and standardized procedures, you can ensure transparency, reduce manual errors, and optimize cash flow throughout the project lifecycle.
4: Leveraging Zoho Analytics for Data-Driven Insights
Informed decision-making plays a vital role in project cash flow management. As a finance manager, you will know when procurement is a requirement at any particular time, when you get paid, and your true profit and loss status at any project. Zoho Analytics, a powerful business intelligence tool, seamlessly integrates with Zoho Projects, providing you with real-time insights and customizable reports. With its intuitive dashboards and data visualization capabilities, Zoho Analytics enables you to analyze project financials, monitor cash flow trends, and identify areas for optimization, empowering you to make data-driven decisions that positively impact your organization's financial performance.


When integrating cash flow management, you can achieve financial stability and success with your project management.
Whether you are a finance manager or a CFO, implementing Zoho Projects equips you with the tools and insights needed to effectively manage project finances, streamline cash flow, ensure regulatory compliance, and make informed decisions that drive the financial well-being of your organization.
Zoho projects can work with any BI tool and ERP. Project
Cash Flow Management is Lumen's product
How much does Zoho Projects implementation cost?
About one day of work 
About $600 +GST
One Day training
Some of the core feature of Zoho Projects​
Planning

Work is effectively planned with the use of milestones, task lists, tasks, and subtasks.

Collaboration

You can stay in touch with other users by using Feeds, Activity Stream, Wiki (Pages), Forum, and Chat (Discuss).

Tracking

You can track your work within and between projects with the use of reports and charts.

Productivity

You can measure productivity properly with the aid of timesheets, resource utilisation charts, and timers.

Knowledge Management

WorkDrive makes managing files and working with your teams and external users in your portal simple.

Effective Billing

Invoices and Expenses help you bill projects by hours and staff and manage project billing meticulously.

Issue management

You can submit, track, and fix bugs in your project with the aid of the issues module.

 

Integration

Access data more efficiently by integrating Zoho Projects with Microsoft Teams, ServiceNow, Zendesk, Slack, and many other programmes.
Read more about Zoho Projects
8 Reasons Why is Lumen the Most Innovative Zoho Consultants
The first worldwide Zoho partner to introduce sales training to Zoho CRM. 

The first worldwide Zoho partner to integrate ChatGPT with Zoho Desk. 

The first worldwide Zoho partner to build an RPA project between UiPath and Zoho CRM. 

The first worldwide Zoho partner to build an RPA project between UiPath and Zoho Analytic. 

The first worldwide Zoho partner to integrate a keyword funnel into Zoho CRM. 

The first worldwide Zoho partner to create data entry automation for Zoho Books. 

The first worldwide Zoho partner to upload price lists automatically from CSV.

The first worldwide Zoho partner to integrate Amazon Connect and The first worldwide Zoho partner to link Amazon Connect and Zoho SalesIQ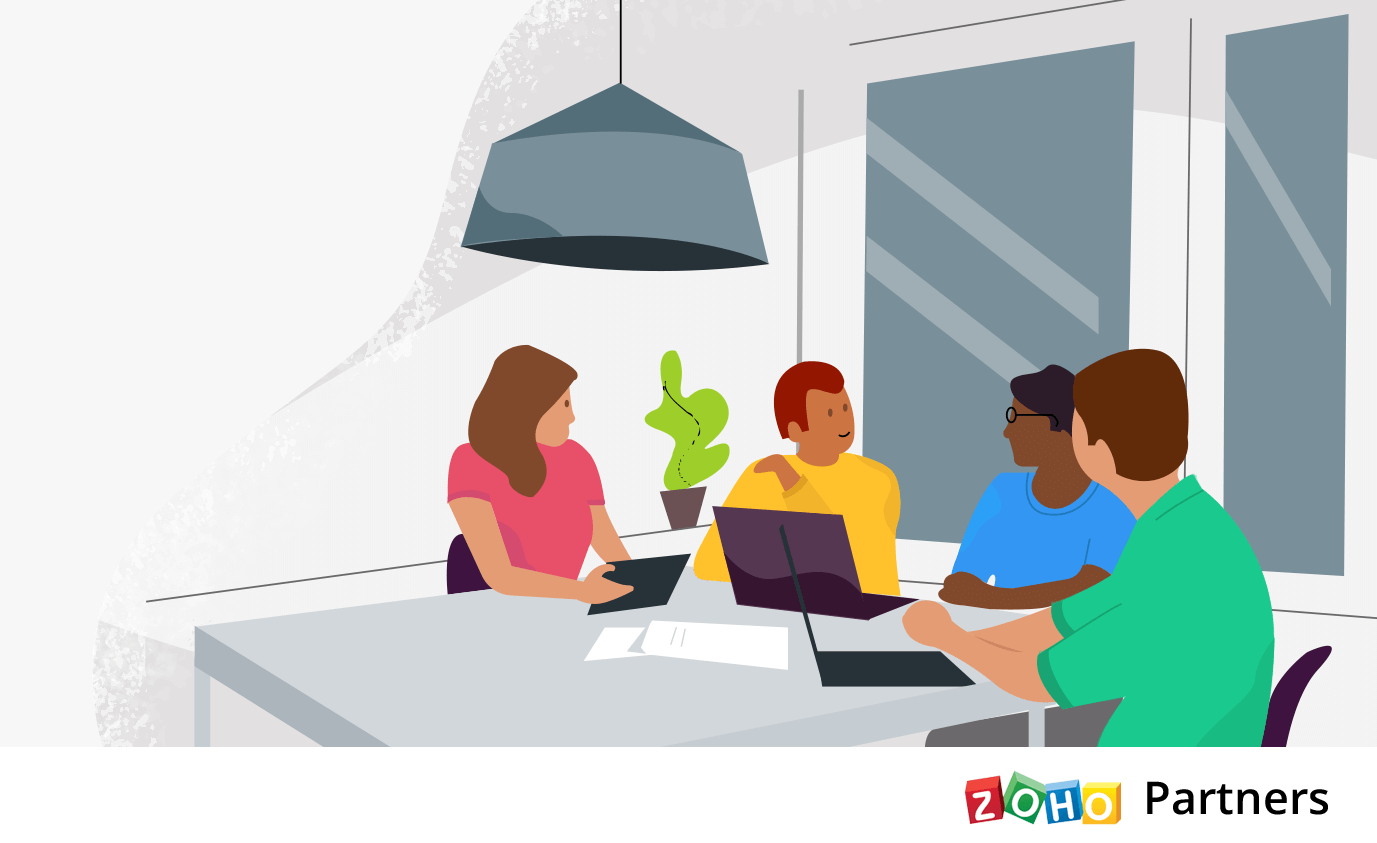 9 reasons to choose to work with the largest and most experienced:
Zoho CRM developers in NZ
Zoho Analytics developers in NZ
Zoho Desk developers in NZ
Zoho Projects developers in NZ
Zoho recruit developers in NZ
Zoho API developers in NZ
Zoho team of developers in NZ
Zoho AI Zia experiences in NZ 
Zoho Partner with proven experience in data cleaning, data enrichment, and data migration for large and small projects.