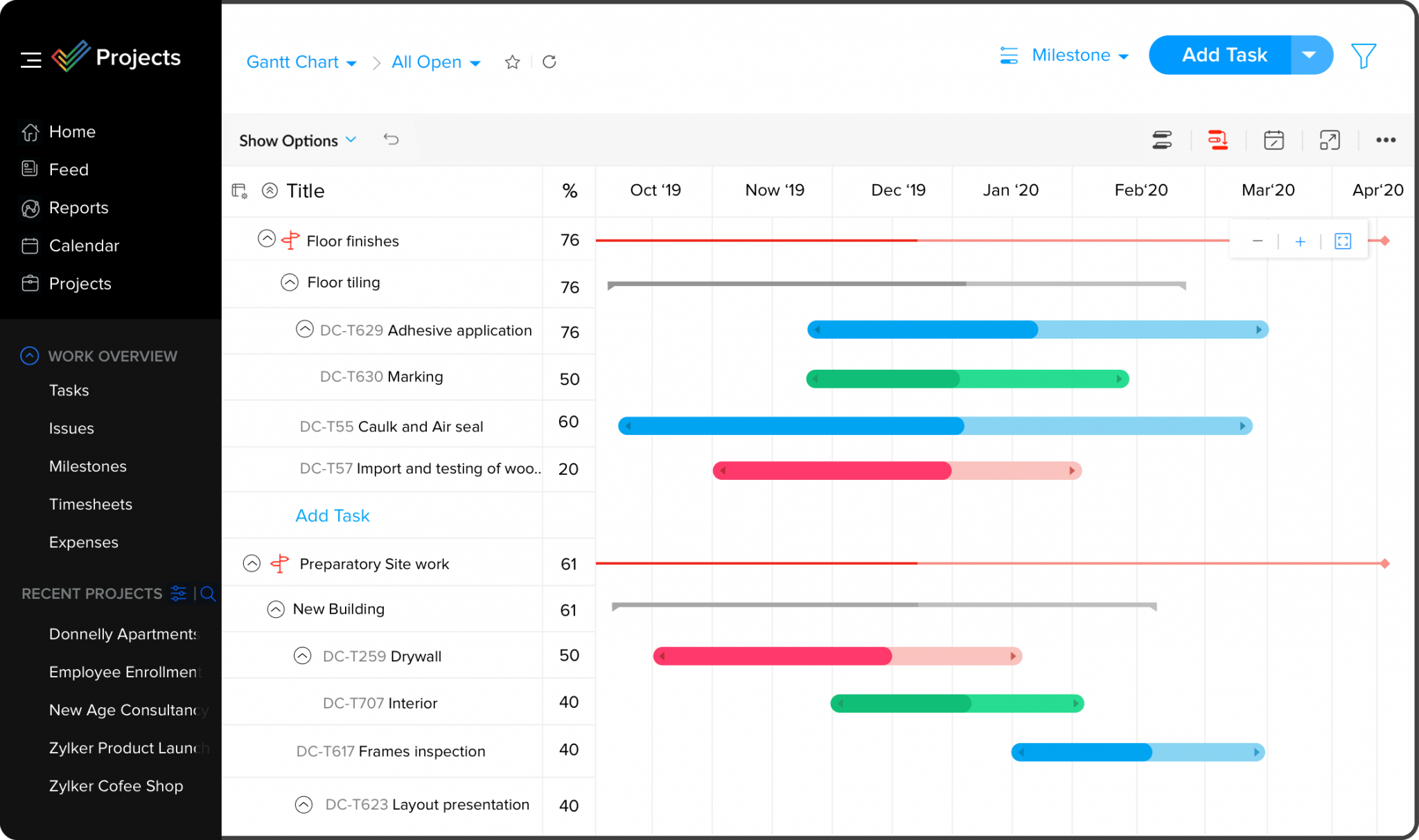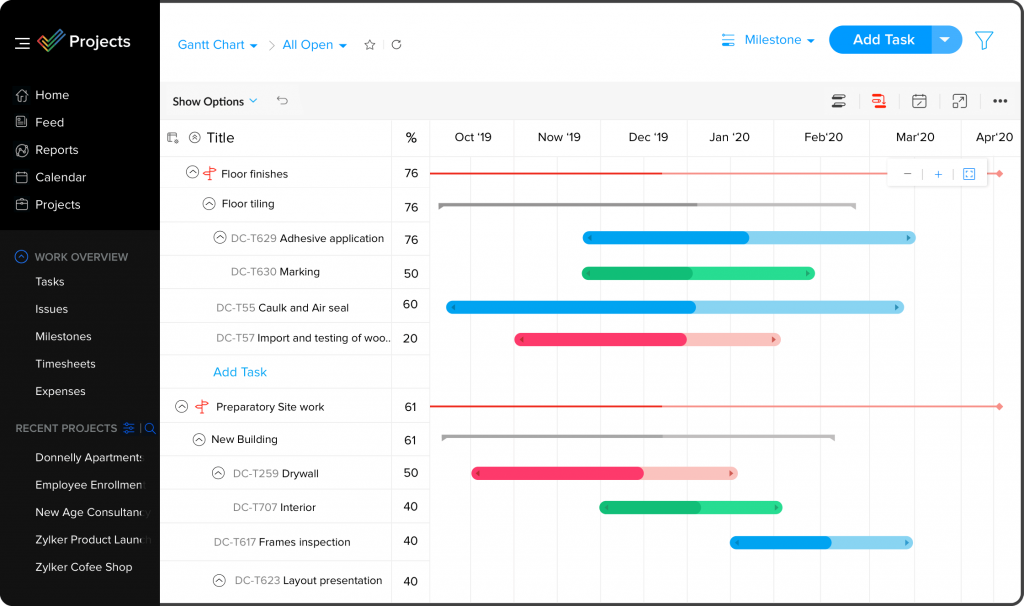 Nearly every business involves a team working together in some way.  These teams are usually working on a coordinated group of tasks all with the aim of achieving some common goal.  Stemming from this is the challenge of how these projects are managed and how the team is coordinated to operate smoothly.
Zoho Projects provides a solution to these challenges.  Zoho Projects is an online planning and project management tool.  It assist with project planning and execution, as well as creating a collaborative environment where team members can communicate easily and keep each other in the loop.
The project planning feature of Zoho Projects enables users to create project outlines with tasks, task lists, milestones – all of these help conceptualize a multi step project and break it down into manageable bit-size chunks.  Zoho Projects also allows users to have nuanced control with features like recurring tasks and dependencies.  Users are also able to import Microsoft Project files into Zoho Projects and get the best of both worlds.  Kanban cards are also one way you can keep an eye on a project – this means that every team member knows what needs to be done at any time.  Whatever method you choose – Zoho Projects gives you a clear picture of what needs to be done.

Zoho Projects also uses the power of Gantt Charts to manage your projects.  Gantt charts give a comprehensive illustration of where a project is in relation to everything that needs to be done.  It also gives users a great picture of resources – who is free and who has too much work on their plate.  The Zoho Projects Gantt charts give you an attractive, adjustable. color coded overview on how a project is tracking – making complex project management significantly easier.
The project coordinator feature of Zoho Projects creates feeds that make staying up to date with projects as easy as using a social media platforms news feed.  On this feed you can add tasks, images, files, bugs, or just make a public post to the group.  This feature uses the engaging features of social media to make communication and collaboration a more natural process.  A big reasons for this is speed.  Debates, discussions, questions all happen faster, meaning cost effective communication that ultimately speeds up project completion.
The reporting tools in Zoho Projects is one of its finest features.  This is driven by Zoho's analytic and business intelligence app: Zoho Analytics.  Using these two Zoho products together means that all the valuable data that can be collected from project management can be turned into valuable insights that can be used to improve team performance.  The output is useful reports like 'planned vs actual', hours utilized, and burn down charts.  There are over 50 ready made reports and dashboards for users to take advantage of. 
Zoho Projects also has a number of other features including invoicing, Apple and Android apps, Dropbox and Google App integration, Project Wikis and much more.
To learn more about how best to use Zoho Application – CRM  contact us.  We are certified Zoho CRM Consultants as well as Certified Zoho CRM resellers,  and have the expertise to help your Zoho Application – CRM and  (more importantly) your business perform better.
We work with businesses of all sizes to solves a wide range of problems.  If you are wondering how we can help you use technology to help your business perform better, please get in touch with us.