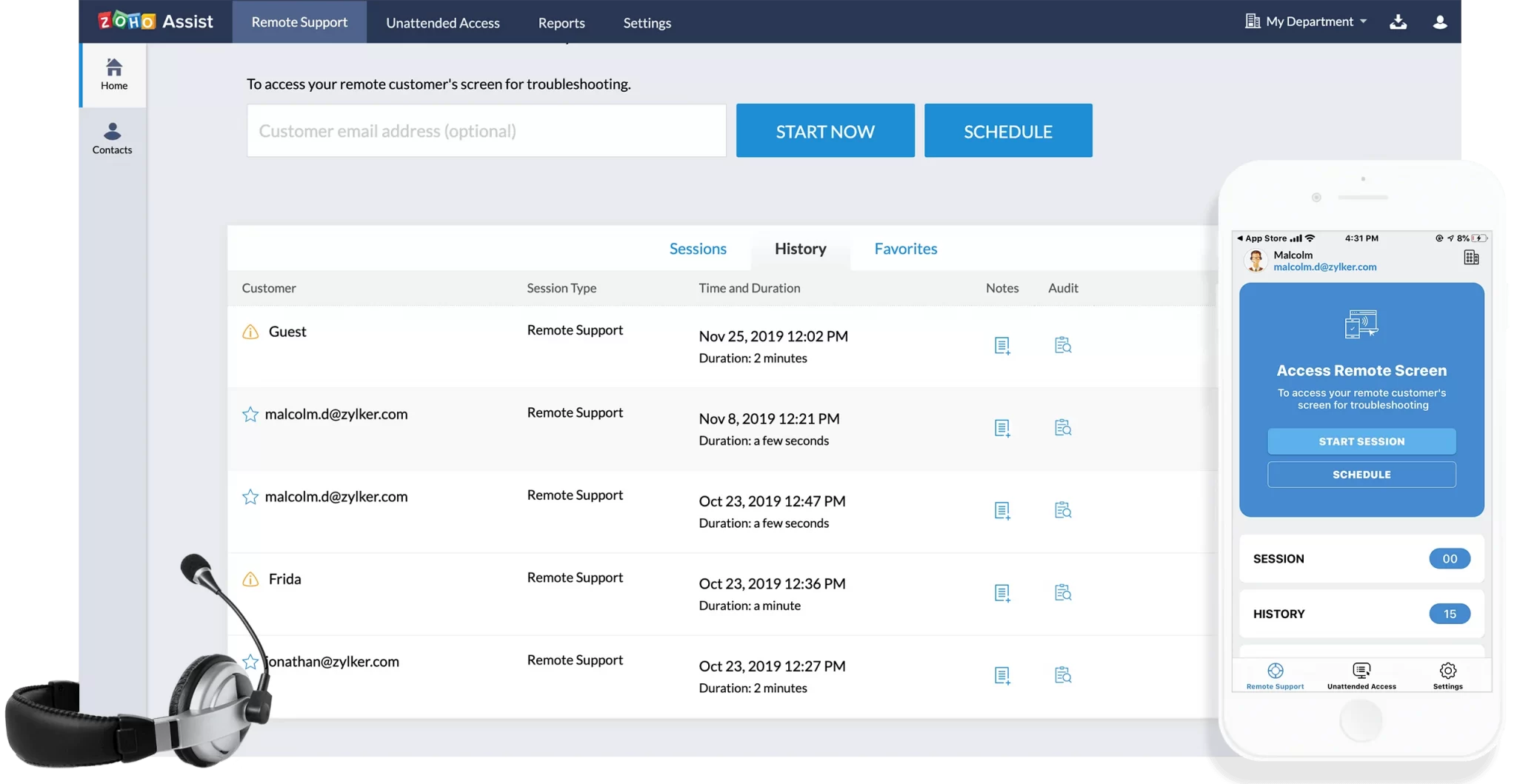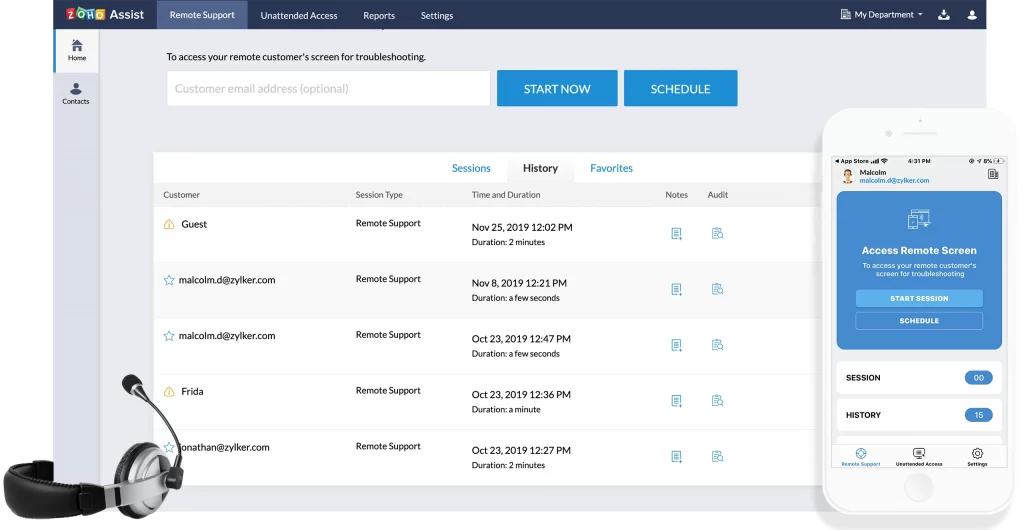 Zoho Assist is a web-based, on-demand, remote support tool that makes IT support easier.  It is suitable for businesses with independent IT support technicians, outsourced IT support,  or for IT support of SMEs.
Zoho has paced Zoho Assist with a myriad to tools to make remote IT support easier.  That being said the Zoho Assist system is seamless and clutter-free.
If required, computers can be accessed even if they are unattended.  Any Windows computer can be set up for Unattended Access in th Zoho Assist account page.  These Unattended Computers can be in any network, either internal or external.
Zoho Assist offers a 100% web based Technician Console.  There is nothing that needs to be installed in order to carry out remote support sessions,  all that needs to happen is for the support staff to log into their Zoho Assist account and get going.
Screen sharing is multi-directional – meaning that the support staff can see the clients screen, and if needed the client can see the support staff's screen.  This features is ideal for demonstration purpose of if a client needs to be walked through a  complex multi-step process.  File transfer is also multi directional – allowing images, docs, and spreadsheets to be sent back and forth. If your client's computer needs to be rebooted to make effect to changes, Zoho Assist takes this in its stride. Support staff can reboot a computer without losing control of it.
Zoho Assist also provides an Instant Chat feature to allow client and support staff to stay connected during support sessions.  This provides an easy way to keep the conversation going, ask questions, and send important information like product keys, passwords etc.

Firewall and proxy configuration are no problem for Zoho Assist.  Even with these features Zoho Assist can connect to a computer without fail.  Getting past Firewalls means that customers can be supported instantly – instead of having to go through the complex and messy task of developing exception or opening up ports in firewalls or proxys.  All of this is done whilst keeping the clients' IT security operational.  Zoho Assist takes security a further step by ensuring sessions take place through industry standard SSL and 128-bit Advanced Encryption Standards protocols.
To learn more about how best to use Zoho Application – CRM  contact us.  We are certified Zoho CRM Consultants as well as Certified Zoho CRM resellers,  and have the expertise to help your Zoho Application – CRM and  (more importantly) your business perform better.
We work with businesses of all sizes to solves a wide range of problems.  If you are wondering how we can help you use technology to help your business perform better, please get in touch with us.