Often when we are speaking to new clients looking for productivity software, they are running a trial version of Zoho CRM Enterprise edition, and are not aware of Zoho One, and the difference between the two.  
In this article, we will explain how it all fits together, why you should switch to Zoho and what to consider when making an important decision, by choosing a cloud-based CRM backbone.  I will also touch on the difference between Salesforce, Microsoft Dynamics and Zoho.  Plus the new kid on the block, Zoho Bigin.
Zoho is a privately-owned global software powerhouse, which originally began in Chennai, India.  
Now headquartered in California with a local office in Byron Bay, Australia, they serve 30 million users across hundreds of thousands of organisations.   Locally, Zoho supports A/NZ companies with data centres located in Sydney and Melbourne with other locations globally.
With over 5000 developers actively working to improve the software, annual conferences globally called "Zoholics", and a large partner network, Zoho is an effective solution for every business from SMB to Enterprise.  As an advanced Zoho partner Lumen are unabashedly in love with Zoho and how it empowers our clients.
Is Zoho One better than just Zoho CRM?
From a customer perspective, this is a definite yes!  Comparing Zoho CRM vs Zoho One suite, the CRM is just one app out of of 45+ connected business apps – so Zoho One is unbeatable value.  As stated at the time of launch on July 25th, 2017, "Zoho One is a broad and cohesive set of applications that work collectively to run an entire business on the cloud".  
Customer Relationship Management is still the foundational app in the Zoho One Suite, which is Zoho CRM.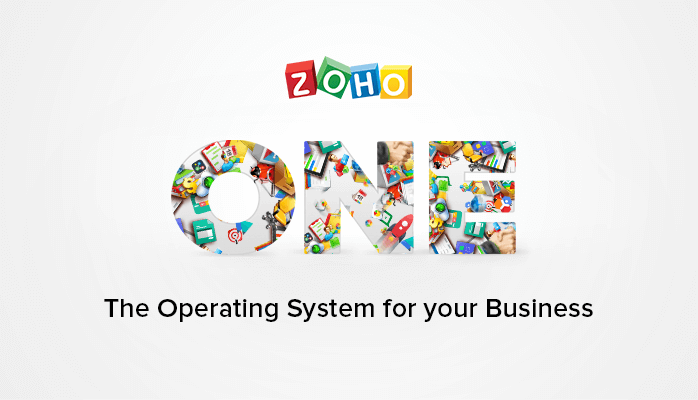 So going forward in this post, I will be discussing Zoho CRM as a core app in the full-featured platform, sort of like a key position star player on a football team.
One of the best parts of Zoho One is that all the apps are provided with the Enterprise level of access.  When choosing a Zoho product, some applications have limited volumes each month.  For example, how many emails you can send through Campaigns, or how many API credits or Webhooks and a few other things.  Clearly, for most users, these limits are not restrictive at the Enterprise level, so you can rest assured that 99.9% of everything you want to do with Zoho won't be restricted in volume.  
In fact, the Zoho CRM Standard and Professional editions are still quite limited when compared to Zoho CRM Enterprise Edition.  For more detailed specifics of the Zoho CRM versions see this page, and for Zoho One plan details, click here.  
What is the Zoho Business Operating System Philosophy?
By having a suite of integrated and customisable systems, you can work smarter and grow faster.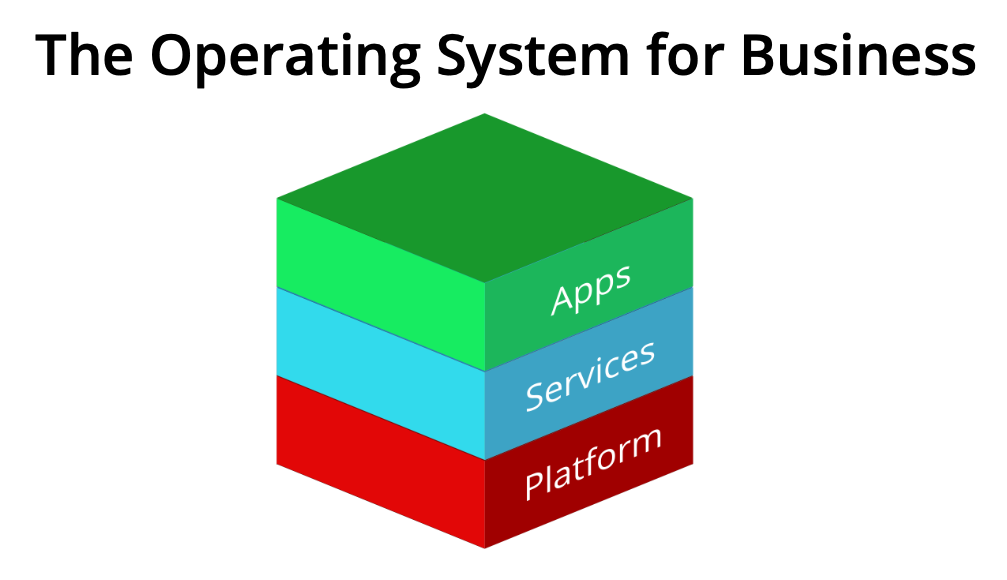 Zoho takes a layered approach, with the three core components of Apps, Services and Platform Layers.
Zoho One includes 45+ Apps including:
Zoho CRM – Fifteen years of development, now make this one of the best Customer Relationship Management solutions on the market.  Contact Management, Lead Scoring, sales manager tools, task management
Communication tools – connect internally and with customers through multiple channels with Phonebridge Telephony for phone calls, Live Chat with SalesIQ, internal chat with Cliq.  Host online meetings or never miss a customer interaction on the go via Android and iOS devices.
Finance Suite – From quotes to invoices, inventory to digital signatures, you can use Zoho Finance independently or integrate with your accounting and eCommerce solutions, or payment gateways like Stripe and Paypal.
Human Resources – With a powerful HR app, you can create a job board, schedule interviews, parse resumes and post to external job boards.  Track time and manage performance.
Operations – Share data with external stakeholders.  handle the project management role with an agile methodology, and assign tasks through kanban boards.
Support customers through Zoho Desk, a competitive ticket-based solution which is comparable to ZenDesk and FreshDesk, best of all the cost is bundled into your Zoho One license.
Powerful marketing tools to manage your email campaigns, post to and monitor social media, and run live events.
Zoho One Services is where the future of the platform is most exciting.  This is the part that includes artificial intelligence, which Zoho calls Zia, their intelligent sales assistant.  Using data mining and machine learning, Zia can enrich contact information, delivery more personal marketing campaigns and includes a chatbot called Zia Voice.
Insights and business intelligence through custom report modules and dashboards.  Unified search to quickly find your valuable data.  A high level of security controls using Identity management, single sign-on and multifactor authentication.
Last but not least is the Platform, with powerful automation tools such as Orchestly, you can visually take unstructured processes and turn them into defined workflows.  Create custom applications with Creator or low-code scripting with Deluge.  Zoho Flow is a nice alternative to Zapier for integrations. 
Trust us, if you take the time to learn the ropes, or use Lumen as a way to get the most out of Zoho, you will be amazed at what you can do.  So Zoho CRM vs Zoho One is kind of a misnomer, as I hope you now understand that CRM is just one component.
How Zoho Works and talks to your other software
What problems does Zoho One solve?  Employees need to multi-task and wear many hats.  Your business is already using a "software stack" of apps, which may or may not know how to speak with each other.  Using APIs and integrations, Lumen can help you get your existing systems integrated, or migrate your data into the Zoho ecosystem.
Customer support or a support team would love to use Zoho Desk as a ticketing solution, and this avoids the expense of using ZenDesk or FreshDesk.  The customer-facing Sales team will love the pipeline management features of Zoho CRM. 
Marketing can get heaps of benefits out of the lead nurturing and marketing automation features to run targeted email campaigns, either in the Campaigns module or integrated with Mailchimp.  
Integration with your website using SalesIQ lets you to engage with website visitors and track their behaviour.  Increase team collaboration with Zoho Project Management, the Connect internal network and Cliq instead of Slack.  The finance suite is a great way of integrating Zoho with an online eCommerce solution like WooCommerce, Magento or Shopify, but using the Accounting and Inventory modules. 
Zoho CRM vs Zoho One Pricing and Paid Plans
When choosing a CRM, there are a few different prices to understand.  Firstly, there is a base price for each user license.  This can be billed annually or monthly, with the annual price offering a saving of about 20%.  I will use annual pricing going forward in this post.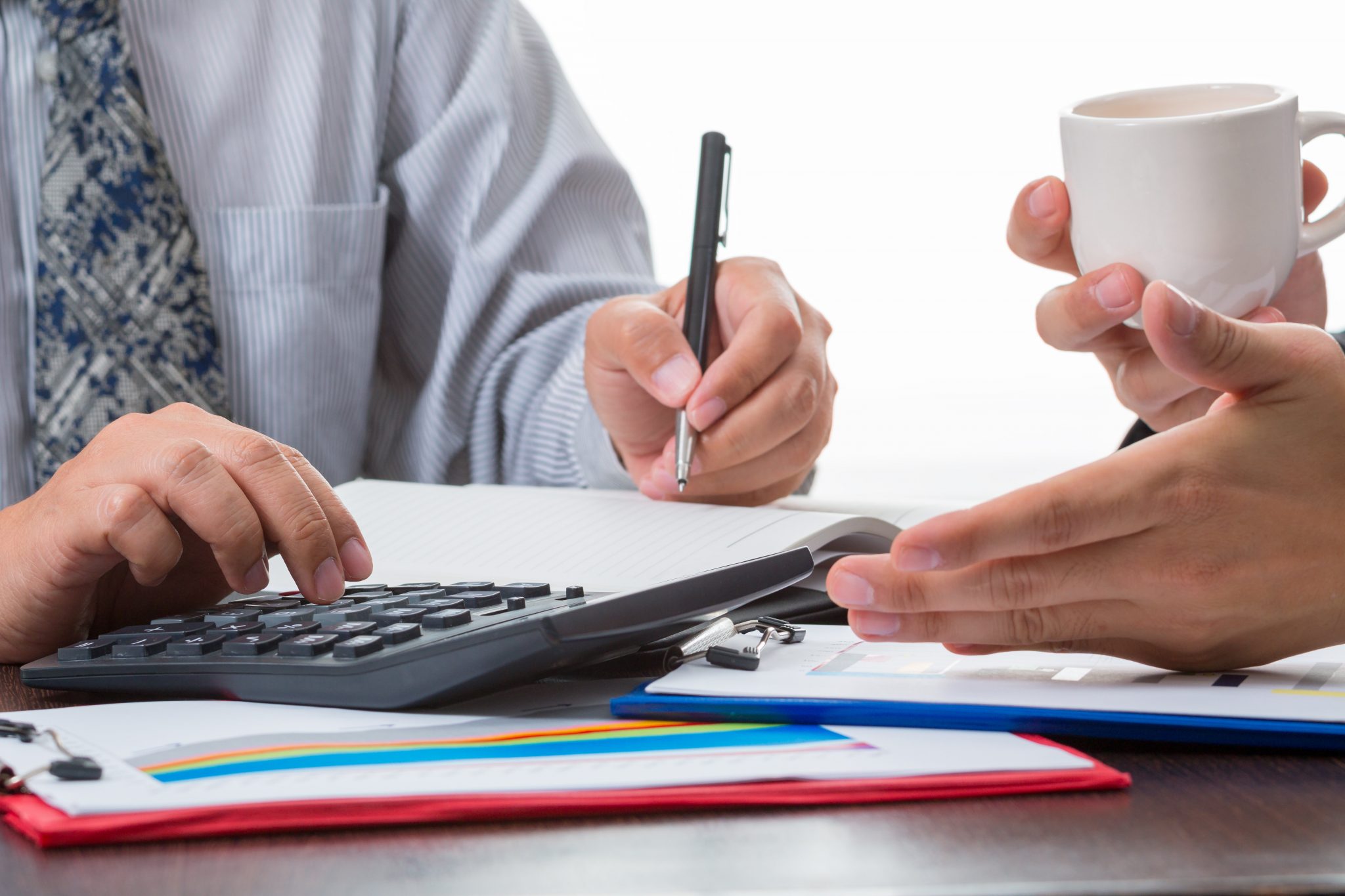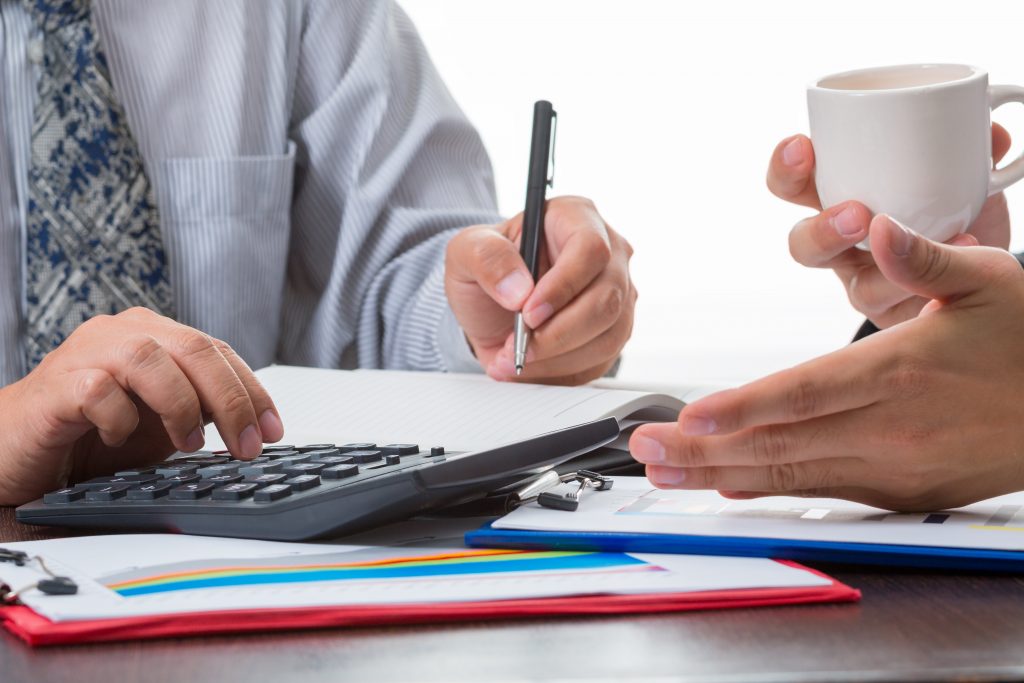 The price for Zoho CRM Enterprise edition is $54.45 AUD/user/month including GST, or US$35/user/month for the rest of the world.
What makes Zoho One a gamechanger, is the total cost per month, of $47.30 AUD/user/month including GST, or US$35/user/month for the rest of the world.  This makes Zoho One cheaper than Zoho CRM Enterprise edition alone, not to mention access to 45+ integrated business apps including CRM.  What an amazing option to consider compared to other CRM products like Salesforce or Microsoft Dynamics.  For a piece of software to include so many apps for a single price is a true business revolution.
We need to mention here, that this is for "All employee pricing", which means that you are required to purchase a license for ALL employees in the company.  There is also flexible user pricing which means you can just purchase licenses for some employees, but the cost per month is $106 AUD, so it is significantly more expensive.  This is why it is best to speak to Lumen directly, as getting the right advice about your licensing is something we can help you with.  Other items to note regarding Zoho pricing:
There is a 30-day refund policy for monthly subscriptions and a 45-day refund policy for annual.  If you are not happy with your Zoho service at any time, they have a customer satisfaction team who will work with you to resolve your issues.
There are no long-term contracts
There are no minimum users on the "All Employee" licences.  This was based on user feedback, so now solopreneurs and those with less than five employees have no problem enjoying the benefits of Zoho One!
All mobile capabilities and access to the Android and iOS apps are included in the license
Do we offer discounts on Zoho One? No – it is already a competitive price
Does it cost the same to purchase Zoho through a local Zoho partner like Lumen? – Yes it's the same
What about the new Zoho Bigin?
I guess this is a good time to mention the new offering, called Zoho Bigin.  Bigin sits outside of Zoho One and has a free plan, or a paid plan which costs US$7 per user per month.  It is designed specifically for micro-business or small businesses, who may not need all the features of Zoho CRM's standard edition or the entire Zoho One Suite.  
Zoho's site has a detailed feature comparison but it really depends on how big your team is and what your future goals are.   If you are price-sensitive, Bigin might make sense, but at about $1 a day extra to jump from the feature-limited Bigin to the full suite of Zoho One is a no-brainer. 

At Lumen, we work on integrations and have published a number in the Zoho Marketplace. Bigin does not let you access to this marketplace or integrate with other Zoho apps like SalesIQ for web chat, or Cliq, Forms, Creator, Finance, Projects, Analytics and so forth.
So to be honest, it's better than running your business on spreadsheets, and if you are price sensitive and comparing Zoho pricing to ActiveCampaign, Pipedrive, Capsule CRM, OnePageCRM, Apptivo and so forth then Bigin would make sense. At the very least, your data is in Zoho, and you have an easy upgrade path to Zoho CRM and Zoho One as you become more familiar with the software.
All these other "low-cost SMB" Customer Relationship Management platforms do not have a team of 5000 developers, which Zoho has, so you cannot expect their solution is going to evolve much, whereas Zoho is already incorporating advanced automations and artificial intelligence into their platform.
How is Zoho able to offer Zoho One at such a good price?
As a privately held company, Zoho takes no external money from investors, unlike most venture-backed tech companies. The founders are very generous in giving back to their community, and built their own rural campus in India, and is just a fantastic customer-centric focused organisation. Sridhar Venbu, founder of Zoho says "we can spend less, so we can charge you less, it's simple right?"
Here is a video about Zoho Desk and the philosophy of the management team:
Zoho CRM vs Zoho One vs Salesforce vs Microsoft Dynamics
Ok, time to talk about the elephant in the room.  From our experience, there are three cost layers to implementing a CRM:
User licences per month/per year for the CRM application
User licences per month/per year for the additional SaaS apps your business needs to operate
Implementation, training, customisation, integrations
Salesforce needs no introduction, it is the leading CRM solution.  Microsoft Dynamics is also widely popular in the enterprise, where Microsoft dominates.  Let's throw in some other ERP solutions like SAP and Netsuite while we're at it.  
The single biggest issue when choosing new software is acceptance and CRM user adoption, or buy-in from staff.  Zoho has worked hard the past few years on improving the user experience and user interface to make it more responsive and easier to use.
If the system is not easy to use, no one will use it and your money is flowing down the drain.  While there is a new generation of tech-savvy users who are great with apps and smartphones, there are many people who still find it a struggle to get used to new software and workflows.  When the tools are hard to use, they won't get used.  Data won't be recorded, or it will be entered incorrectly.  If your sales team has to jump through too many screens and fields, you won't get value for money.
Salesforce might be a "better" solution, but when you start looking at needs, and budget, Zoho wins hands-down.  Salesforce pricing starts at $35 AUD/user/month for the barebones "essentials" version, which honestly doesn't do much.  You need at least the Professional version for $105 AUD/user/month which doesn't even include Advanced Reporting, Workflows and Automations!  API access is an additional $35 AUD/user/month, wowsers! 
So an enterprise client needs enterprise features, that is $210 AUD/user/month.  And this is just a CRM app – with no marketing functionality and no sales cloud or service cloud.  So you either look at the Salesforce tools in these areas or have to calculate the price for Slack, ZenDesk, and a spaghetti stack of other cloud-based applications.
Compared to Salesforce CRM's Unlimited edition, Zoho's enterprise tier is almost 90% less expensive.
Microsoft Dynamics Pricing is even more of a mess, with confusing pricing and licensing issues for years and years.  You can attempt to understand all this with a handy 60 page Dynamics 365 Licensing Guide PDF ….. or you can just sign up to Zoho One and have the peace of mind that you have access to 45+ Apps, and entire business operating system, for less than the cost of a daily cup of coffee.  
Just think of how much you will save when choosing Zoho over Salesforce/Dynamics in base user licensing alone.  You could divert those resources into implementation time, training and customisation of Zoho, allowing staff to be better skilled.  Or you could start using Robotic Process Automation like UiPath, SparkBeyond or other other software solutions.
Next Steps
If you have not yet signed up for a Zoho trial, please use this link, or contact us for a chat.  If you tag Lumen as your Zoho partner, you will receive an hour of free consulting/training so we are always ready to start you on the journey to more efficiently run your business.